If you've ever needed a hero, then you've opened the right door. The men in these pages are hot, the beer is cold and the women eat monsters for breakfast.
So stay awhile and see what it's all about. But be warned, a journey into this universe is a one way trip. You might never be the same.
~
Welcome!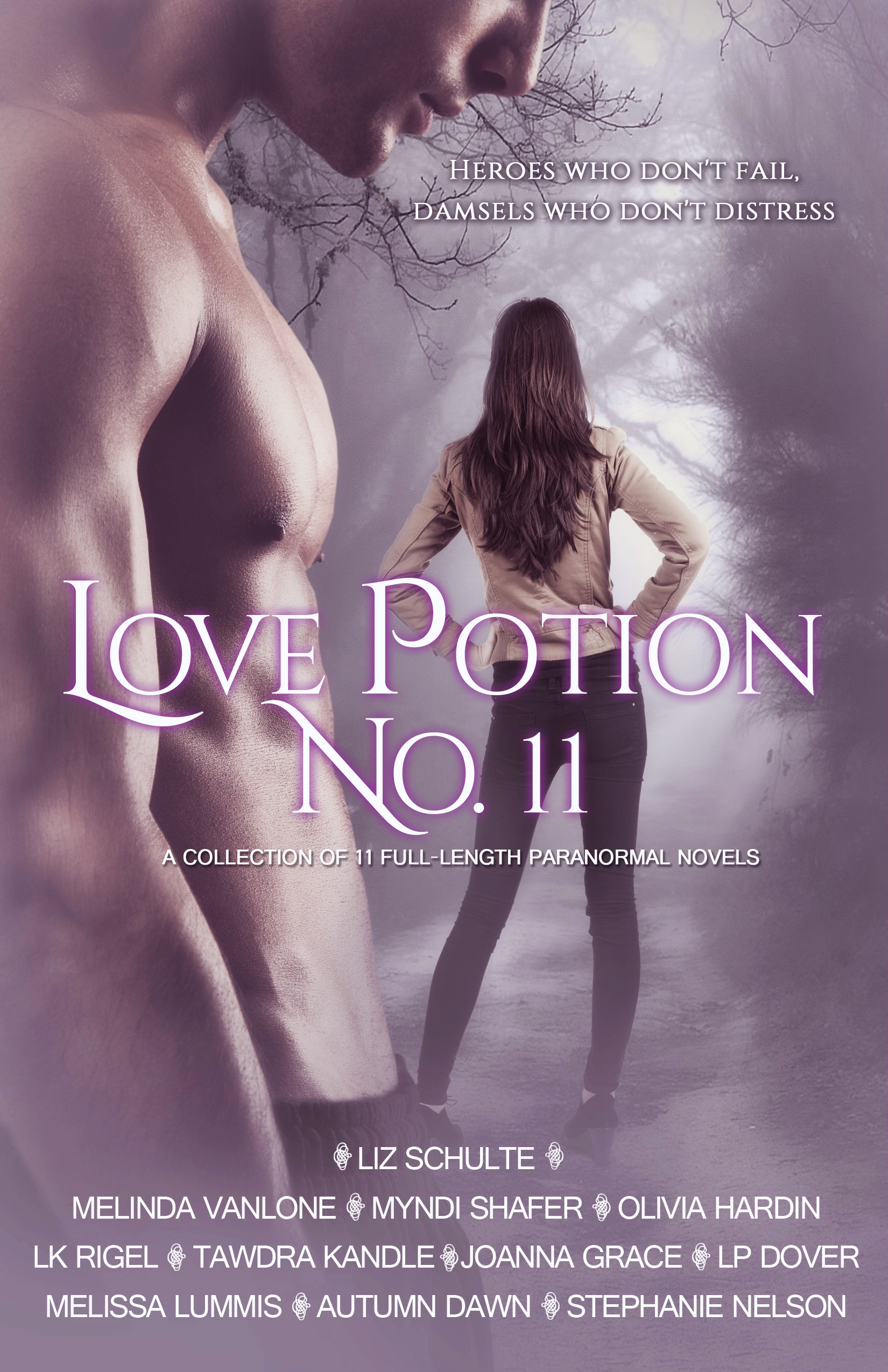 Love Potion No. 11
Available 2014-09-07
$0.99 USD
Get it at Smashwords | Amazon | ibooks

Eleven full length paranormal novels celebrating strong women, sizzling hot heroes, and all the things that go bump in the night.
Series: The Guardian Trilogy ByLiz Schulte,Melinda VanLone,Myndi Shafer,Olivia Hardin,L.K. Rigel,Tawdra Kandle,JoAnna Grace,L.P. Dover,Melissa Lummis,Autumn Dawn,& Stephanie Nelson
Eleven full length paranormal novels celebrating strong women, sizzling hot heroes, and all the things that go bump in the night.
Secrets by Liz Schulte: While Olivia Martin observed life through her camera, the Abyss gazed back at her. She is about to find out there is a lot she doesn't know and sometimes what you don't know can kill you.
The Charmer by Autumn Dawn: Jasmine didn't realize her friend Wiley was special until they were drawn into another world. Here Wiley is betrothed to the ruler of the Haunt, a wererace both dangerous and proud. Will Jasmine find the portal home, or will she find a werewolf of her own?
Forever Fae by L.P. Dover: He leans down, lips parted, and then our lips connect ... We didn't know that this one kiss has FOREVER changed the Land of the Fae.
Stronger Than Magic by Melinda VanLone: Water can be deadly, in the right hands.
In a world of magic, hidden away from those who have no power, Tarian Xannon commands the natural forces of water, air, and fire. She fights not only to keep the throne she thought she hated, but to accept her true place in the world. Will her power be enough? Or are some things stronger than magic?
Give Me by L.K. Rigel: A Romance Reviews top pick.
Lilith Evergreen has always lived in the California desert, but when she receives an antique ring as a gift, she dreams of a castle by the sea, a magnificent tree at cliff's edge, and a mysterious woman who calls her to Dumnos, a land of mist and rain. There she meets Cade Bausiney, the future Earl of Dumnos. His attraction to her is overwhelming ~ but are the feelings real or magically induced?
Taming the Wolf by Stephanie Nelson: Attacked by a wolf while hiking, Anna Avery's life just got a little hairier. When dead bodies start showing up and Anna was the last to see them alive. She'll have to prove her innocence and tame the wolf who bites first and asks questions never.
Sweet Magic Song by Olivia Hardin: Belle Bittner was sold to the highest bidder when she was just a child, sought for the magic lying dormant in her blood. As she tries to escape the world she was raised in, separating myth from fact to decipher the truth about her powers could mean the destruction of the new life she is trying to build.
Enlightened by Melissa Lummis: Loti Dupree is about to learn that karma's a nightmare. Someone out there will stop at nothing to kill her and only the vampire named Wolf and a destiny she isn't prepared to embrace stands between her and an early grave.
Undeniable by Tawdra Kandle: For Rafe Brooks, running from a broken heart means losing himself in alcohol and women. Numbing the pain works until he meets an irresistible redhead with secrets of her own. For Rafe and Jocelyn, when life is uncertain, love is undeniable.
Hanna, Hanna, One-and-Two by Myndi Shafer: Twenty-two year old Johanna Cochrin's world is broken. Eating mists ravage the plains, and wilder-than-most hunt and kill in all but the most protected lands. But when she is kidnapped from a remote government compound, she must learn to trust people she has never met and share the secrets she never meant to share.
Divine Destiny by Joanna Grace: Avery McClain's life is shattered and she is rescued by a Thracian warrior. He takes her to the Haven where she discovers her life was meant for a higher calling.
~
Find it at Smashwords I Amazon I B&N I ibooks
Gargoyles in the Attic
Gargoyle Howl is more interested in bacon than candy, but he finds a sweet thing in chocolatier Fiona Creed. Can he charm her human parents, or will his romance turn sour?

A short story set in the world of Iron & Hemlock.
16,000 words
~
Find it at Smashwords I Amazon I B&N I ibooks
Gargoyle Girl
Sometimes a heart of stone is a good thing.
Cachet dreamed of a handsome gargoyle mate of her own, and Rook swept her away with his dark good looks. Since the Purge, gargoyles are rare, so when a young gargoyle miss arrives, claiming to be his true mate, Cachet smells something fishy. She's not sharing her mate, and the little harpy has to go.
There's going to be a catfight in the old house tonight, and only one gargoyle will get her man.
12,000 words.
~
Find it at Smashwords I Amazon I B&N I ibooks
Scorched Earth
One will find a love that shakes the earth itself.
Cara's compassion freed three dangerous elementals from a hellish prison. For the first time in centuries, the destroyers of cities are free, with the potential to wreak havoc that could leave a scorched earth. Can Cara give the earth elemental a reason to care, or will the power the Fates unleashed in her be her downfall?
...
Humans feared the power of the elementals, so they locked them away. In the process they altered the balance of nature.
800 years later, the elements have awakened. Maddened by centuries of imprisonment, these powerful beings crave vengeance. Three unsuspecting women will have to soothe the savage forces before it's too late.
One will find rebirth in the flames that take her life.
One Night To Burn
One will meld with the sea that seeks to claim her.
When the Sea Burned
One will find a love that shakes the earth itself
Scorched Earth
~
Contact me: autumndawn@autumndawnbooks.com
Keep up to date on new projects: http://authorautumndawn.blogspot.com